Trails and Rail Right-of-Way Preservation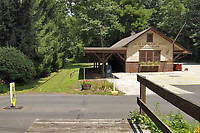 PA-TEC is not opposed to rails to trails. In the last few years, though, the Transportation Research Board made some recommendations concerning conversions. One of the recommendations was a requirement for demarcating the line as a converted ROW, and reminding trail users that the line was subject to subsequent rail use as a condition of trail use.
In November 2010, PA-TEC wrote a letter to SEPTA suggesting they follow this practice and at the minimum, make signage a condition of any future conversions. The response from SEPTA was that legal ownership was all they needed to restore rail service and they saw no need to follow the TRB's recommendations. This position was echoed by Rina Cutler, Deputy Mayor of Transportation in Philadelphia.
Noting that there have been no successful conversions of trails back to passenger use, and noting that SEPTA has a poor track record with expansion or even maintaining the routes it once had, and further based on our experience with the Newtown line which is wholly owned by SEPTA, PA-TEC recognized the obstacle to restarting a line occupied by a trail is not legal at all but political. Ownership alone does not make it straightforward to restart a rail line. Stating that legal ownership of the ROW will protect the rights of the public towards future rail expansion is simply insufficient.
PA-TEC is now concerned that SEPTA is creating an additional constituency resistant to putting rails on an owned ROW, in this case the trail users. We are also concerned that the trail use will create an additional avenue of resistance even for those who would never be trail users. Suddenly, NIMBYs with no interest in exercise will be avid trail users, not for the sake of the trail but to prevent rail use.
For this reason, PA-TEC opposes SEPTA's liberal policy of converting rails to trails in the name of rail preservation. As SEPTA pointed out, they own the ROW outright in many cases. With that being the case, there's no pressing need to protect the ROW by putting trails on it. Without this need, SEPTA's practice of participating in rail-trail conversion is at best a distraction, and at worst an attempt to get rail lines off its books.
PA-TEC would support a coherent policy from SEPTA that allows conversion from rails to trails ONLY when it is spelled out both legally and politically that the ROW is a rail ROW and belongs to the public for the purpose of transportation, and that this use will trump all other uses if necessary.
PA-TEC's position statement & SEPTA's response on Rails to Trails